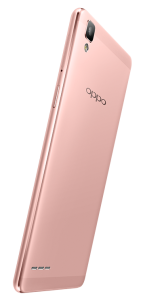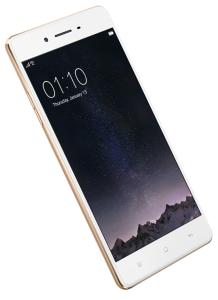 Gone are the days where mobile phone was just used for the purpose of calling and for text messages.
Now is the era of smartphone ,where you can browse, shop online on phone,Click photos with high definition cameras in smartphone. With the growing trend of taking selfie on phone there was a need of a phone which is expert in taking selfie. So Chinese phone company OPPO has launch OPPO F1 which is #SelfieExpert and is one of the best Camera Phone for taking selfie.
#OPPOF1 was unveiled in Mumbai in the presence of Mr SkyLi, OPPO Global VP, MD of International Mobile Business and President of OPPOIndia. Along with him were Mr. David Richardson, Chief Executive of International Cricket Council(ICC) and will be for sale from 4th Feb 2016 all over India.
The SelfieExpert comes with the features of
8MP front camera with F/2.0 aperture and 13MP rear camera with ISSO CELL sensor which is very good in taking selfie.
It also has Diversified photography features like Ultra-HD, Super Macro, HDR, Double Exposure, Slow Shutter? & Super GIF.
Qualcomm Snapdragon 616 series Octa-core processor with 3GB RAM and 16GB ROM, VoLTE supported.?
The F1 has a 5 inch display and is a mere 7.25mm thick, assures that the phone feels just right. It has a 2.5D Corning®Gorilla®Glass4Screen.?
Its been priced at Rs.15,990
For more product details click here
#F1Hotsale will be start from 4th to 6th Feb 2016 where 8-9 celebrities will visit the stores.
OPPO recently announced its official global partnership with International Cricket Council (ICC) for the mobile phone category for four years starting 2016 and has also entered into a 3 year partnership with FCBarcelona. OPPO has also extended its brand association with Bollywood superstars Hrithik Roshan and Sonam Kapoor earlier this month to further accelerate its marketing campaigns in South Asia Region.
But the question is why its been named as SelfieExpert.let's see why its called as SelfieExpert
The OPPO F1 is tailored for selfie supremacy, with excellent purposely-built software and hardware.It features an 8MP front-facing camera with a widef/2.0 aperture lens and a 1/4-inch sensor , allowing for 44% more light to enter the camera than f/2.4 aperturelens, and resulting in shots that are 30% clearer than one staken with an ordinary 5MP camera. The F1 also offers OPPO's Beautify3.0 feature, which ensures stunning selfies in all conditions. Beautify 3.0 removes blemishes, highlights subject's features and includes 3 different beautify modes along with 8 filters. In addition, the OPPOF1 can capture selfie and gestures and spoken commands. By opening a palm in front of the camera, or simply by saying "Cheese!", users can activate an automatic selfie with an adjustable countdown.
So overall OPPO F1 SelfieExpert isthe best phone for selfie lovers and that also in a budgeted price.